| | |
| --- | --- |
| Make and Manufacturer | Everbeing |
| Related Manuals | Installation Manual |
| Contact Person | Ghulam Sarwar Butt |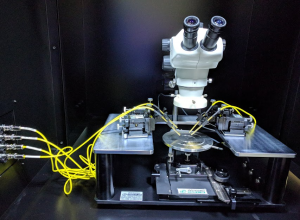 Electrical characterization is a significant part of microelectronic devices. The input and output contacts of a device under test (DUT) may not be visible with the naked eye therefore it becomes difficult to take their electrical measurements. The Everbeing probe station provides the interface facility to make accurate contact with MEMS, wafer, glass, etc. Probe Station is a combination of a microscope, micropositioners, chuck, tip holder, tungsten tips, vibration-free table, and shielding box. The resolution of the Probe Station is 10 micron.
The four EB-050 micropositioners can position the probe linearly and can move in all 3 individual axes with 0.8 µm resolution and a 12 mm Linear Travel Range. The micropositioners are magnetically mounted with magnetic switches. A 6" stainless steel vacuum chuck can hold the three DUTs separately with the corresponding vacuum switches. DUT size ranges from 2mm to 150mm. It can hold a wafer less than 6". The fine resolution of the chuck is 1 µm with a theta of 15 degrees and up/down travel range of 6 mm. Triaxial tip holder connectors are used for the DC measurements. The solid Tungsten tips T20-100 ensures good contact with different materials. It is the most common probing tip having a fine end with an angular taper diameter of 10 μm.