5S is a Japanese visual management tool that is a structured methodology to continuously practice a clean, organized and efficient working environment. The 5S methodology assists in eliminating the frustration, confusion, stress that is found due to the space limitations and poor inventory management at any workplace. This technique is versatile and applies not just to industries and factory floors but to any workplace that faces the havoc of mismanaged resources. Being organized is about working smarter not harder and helps to create a safer workplace, reduce processing time, improve communication, eliminate errors, utilize space effectively and improve morale.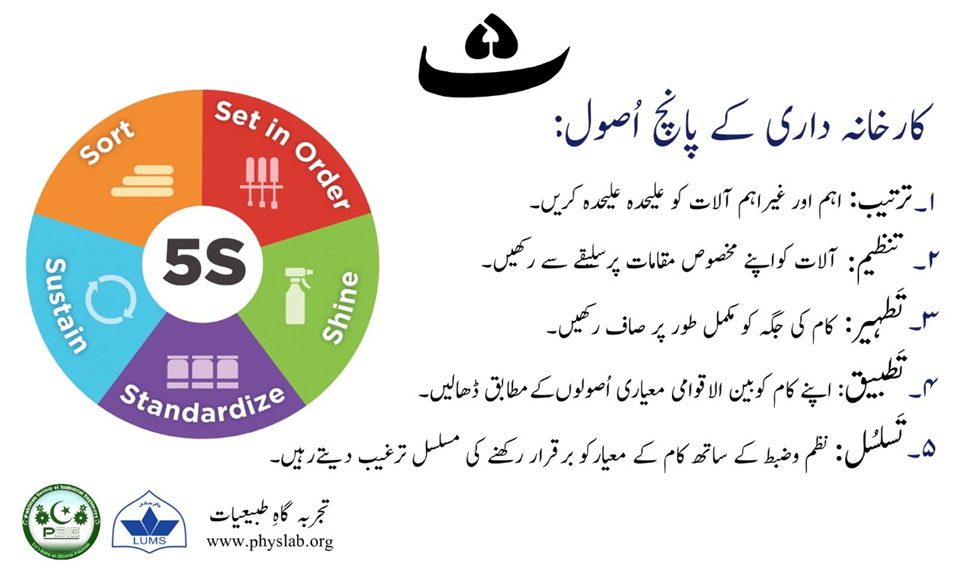 By large, 5S has helped industries such as Toyota and Suzuki improve their productivity and reduce cost but its application in an experimental physics laboratory is still unexplored. So, this page is dedicated to Physlab's effort in improving the productivity and efficiency of our teaching laboratory. The goal is to reduce the time and effort needed to gain access to resources and usage of equipment in the laboratory in a timely productive, efficient and safe manner.
The simple five steps to workplace organization are as follows:
Sort: Identify, seperate and remove unnecessary items from your workplace.
Set: Create an order of the necessary items left that you would use in your work.
Shine: Clean up the place and shine it.
Standardize: Build a standard of placements, localities and visual identifications of your items.
Sustain: Periodically review and audit the compliance to your own standards.
The implementation is a continuous process and a team effort. Following are some of the improvement efforts that have been made so far:
Stockroom
Mechanical Workshop
CNC Machine Centre