The Physics department of Government College Sahiwal visited the Physlab on Thursday 27th April 2017. The participants comprised of MSc/MPhil students, primarily from the first year, and their teachers. They were all led by the Assistant Professor Rehan Ahmed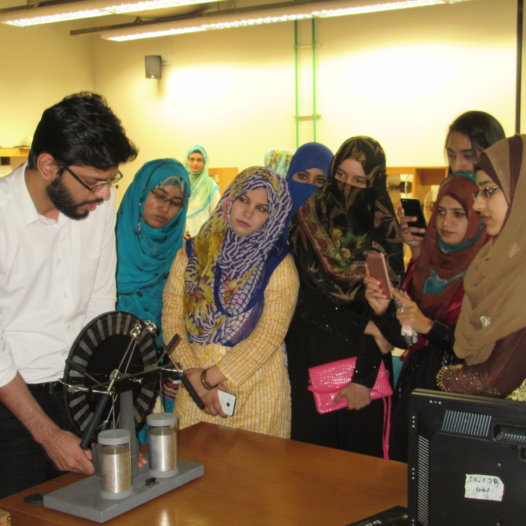 The session started off with a brief introduction about the Centre for Experimental Physics Education (CEPE) and its philosophy, the Physlab team opened doors to the various facets of laboratory and took the esteemed visitors through an exciting guided tour of the freshmen, junior and advanced laboratories. The students were highly encouraged to experience the existence of Physics around them through diverse and indigenously developed  experimental setups ranging from the study of energy conservation in two dimensions to extreme low temperature cryogenics experiments.
Through junior lab, the participants were guided through advance physics experiments relating to thermal oscillations, magnetic pendulum and the current on going project of developing a low field Nuclear Magnetic Resonance spectrometer. Students were introduced to the use of modern data acquisition tools and the innovative domain of smart Physics through smartphones and video cameras. A quick flow of Physlab's vivid demonstrations from electricity, magnetism and mechanics sparked excitement in the participants.
Finally, a tour through the advanced physics labs, in particular, the scanning electron microscope (SEM), the Magnetron's sputtering machine and the Vibrating Sample Magnetometer (VSM) culminated into the completion of the one day tour of the Physlab. In the end, some words of encouragement and guidance for participants to pursue graduate studies at LUMS were discussed by Dr. Sabieh Anwar.