Course Outline:
Download
here
.
Class Timings and Venue: 2 pm to 2:50 pm, Monday in 10-202.
Office Hours: Walk in on Monday morning.
Class TA: Haadi Masood
Link to the video playlist: Here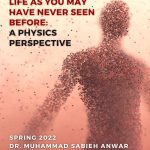 My heart lies in physics (3 lectures)
Basics of pressure and fluid flow Video
Ohm's law of fluid flow, branching in the circulatory system Video
Big view of pulsatile flow of blood in the body and measuring blood pressure, cardiac cycle Video: In this lecture I also demonstrated arterial oscillations of the artery which is also an experiment in Lab-1 at PhysLab. Here are the slides that I used. The images in these slides are all taken from internet sources.
Spark of life (6 lectures)
Quantum aspects in life (4 lectures)