A team of 7 students from the department of electrical engineering at LUMS, participated in the
Shell Eco-marathon Asia,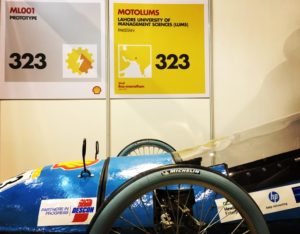 held for the first time in Singapore. The competition was attended by around 22,000 people. The event took place at the Changi Exhibition Centre. The students were challenged to push, through the boundaries to build energy efficient vehicles. In total, 123 teams competed from across the Asia-Pacific region.
The team, called
MotoLUMS
, represented Pakistan and presented their prototype vehicle built using an aluminum frame with an in-house 'carbon fiber' top to compensate weight for fuel efficiency. The team successfully passed the "Technical and safety inspection" criterion.
The project operations were carried out under the supervision of Energy and Power Systems (EPS) cluster and Physics Lab at SSE, LUMS. The ten months project was mentored by Dr. Nauman Zaffar and Dr. Sabieh Anwar. The team was sponsored by 'Descon Engineering', c/o Mr. Abdul Razak Dawood.