The lab was co-taught by Dr. Rafiullah and Dr. Hamza Humayun. My PhD student Wardah Mahmood was around for support throughout.
As I always say, the advanced physics lab is a hallmark of any physics department. If you would like to find one metric of how good a physics program is, it would be this very lab. For this reason, for many years I have invested time, energy and commitment to making this experience closer to reality for my students who come from a mix bag of prior strengths and interest levels towards practical work. My goal is not to leave anyone behind. Make it a personalized affair, where the fast paced experimenters who enjoy more, also get to do more and the ones who fumble with tools and instruments, and who are slow, are gently steered along. The finishing line for each student is different but everyone leaves satisfied and content of getting a glimpse of how the experimental physics life is lived.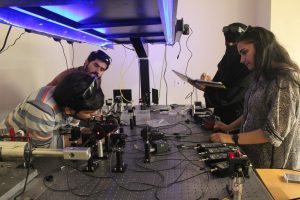 In spring 2022, for the first time, three students were able to complete a suite of quantum, single-photon experiments implementing quantum erasure and single photon interference and verifying violations of Bell's inequalities. This is satisfying, for a theme that I started many years ago, is now coming to fruition with practical training of our very students in the discipline of quantum information processing.
This lab also gives me a chance to test out new ideas. Zainab and Nayab were asked to probe conductivities of different materials using four-probe techniques. Hassan and his team delved into nonlinear circuits and made pretty double-scroll patterns on the oscilloscope with nonlinear circuits, that they also simulated.
The light bulb is a universe in it's own. From thermodynamics to electricity, light to radiation, materials to pressures, it spans diverse and deeply fascinating topics. Shirin's team spent several weeks on probing the incandescent light bulb.
Equipped with a high speed camera, Saqlain and coworkers deepened their observations on bouncing volleyballs, and drops of water scuba diving into surfaces of oil (and vice versa). They also explored how balloons inflate and deflate. Wahaj and colleagues were trying to control a cotton candy machine through its parameters (rpm, voltage and temperature) to see what kinds of fibrous sugary delicacies could they make. They also completed investigations on ecg and signal processing of biomedical signals, in line with my dream of making a complete and functional body physics lab.
Fariha and her team finished off with a series of investigations understanding the lockin amplifier and employing it for serious optical experiments such as measuring minute polarization rotations and ultra-small resistances.
This was also the first time where my co-worked Dr Tayyab Imran trained a group of three students on femtosecond laser technology wherein students built an autocorrelator to map out the pulse profile from a fiber doped laser. I think undergraduate students working with femtosecond lasers is a definite first in Pakistan.
A unique feature of this lab and a personal achievement was that we deployed our new products, the PhysLogger and the associated PhysInstruments for the first time in a real serious manner. Out of our motor controller, Abdullah built a motorized scanning stage for SPR detection, and students used our pressure, voltage, current, angle, and displacement measurement gadgets alongside our logging device and thus became the first users of an emerging product base emerging from Physlab.
These lab engagements were preceded by some skill development in software carpentry, workshop practice and circuit building, conducted by the workshop team, led by Muhammad Rizwan. Dr. Rafiullah motivated students towards the unescapable role of data science in the physics lab. This was achieved through several weeks of training on python programming, plotting, optimization and curve fitting. Ayyaz and Saqib also taught the students the do's and don'ts of soldering. All in all, it was great fun for me and I hope the students do walk away in a state of intellectual empowerment that they consider themselves better than what they were from five months ago.
This lab is a labor of love of many people and I like to immensely thank all of them.
Signing off, Cheers,
Muhammad Sabieh Anwar
25 April 2022