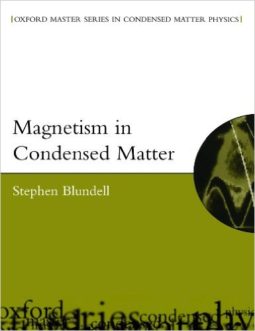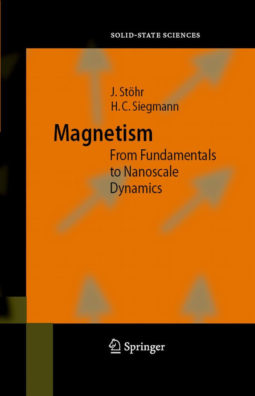 Course outline: The outline can be downloaded here.
Class timings: 1:00 to 2:15 pm, Monday and Wednesday, Room: 301  SSE Complex.
Pre-mid term

To access the video recording, click on the numbered links below.
Origin of Magnetic Moments (2 Lectures)
1: Isolated magnetic moments and paramagnetism
Magnetic moments
Spin 1/2 particle, Spin j system
Paramagnetism, Curie's law, Brillouin function
2: Forces and torques on magnetic moments
HW1: Isolated magnetic moments and paramagnetism (due date: Monday, 26 September, 1 pm), HW1 Solution
Dipolar interaction, exchange interaction
Pauli's equation, Pauli exclusion principle
Heisenberg exchange Hamiltonian
Ferromagnetism, antiferromagnetism
Variational pricnciple
Bonding and antibonding molecular orbitals
Ionic bond, covalent bond
Exchange degeneracy in the molecule causes singlet-triplet energies to be different
London-Heitler approximation
Direct exchange, Indirect exchange, Superexchange
Heisenberg exchange Hamiltonian
Example of finding energy splitting due to exchange Hamiltonian
8: Spin Orbit Interaction (SOI)
Semi-classical treatment
Quantum mechanical interpretation
Helium (He) atom,  Sodium (Na) doublet
Multielectron Atom, L-S and j-j coupling
Hund's Rules:3d and 4f ions and their comparison
Effective magnetic moments of 3d and 4f ions
HW2: Exchange Interaction (due date: Monday, 10 October, 12 pm), HW2 solution
Orbital quenching
3d orbitals in Octahedral environment
Crystal field splitting
t2g and

e

g Orbitals
3d orbitals in tetrahedral environment
Jahn-Teller Effect
low spin and high spin configuration
11: Vibrating Sample Magnetometer
12: Diamagnetism of bound electrons and Pauli paramagnetism
Bound electrons in a solid
Canonical momentum
Diamagnetism, Paramagnetism
Van Vleck paramagnetism
Fermi Dirac distribution, Density of states
Spin split bands
Pauli paramagnetism
HW3: Crystal field interactions, diamagnetism, Pauli paramagnetism (due date: Monday, 31  October, 10 am). Assistive Mathematica file.
HW3 Solution: Assitive Mathematica File
Spin-1/2 free electrons
Landau Gauge
Landau Quantization
Landau levels for electrons in a solid
Degeneracy of Landau levels
k-space in a magnetic field
Density of states (DOS) in a magnetic field
Convolution of 1D and 2D DOS
Van-Hove singularities
Integrated density of states
Change in Fermi level in a magnetic field
De Haas-Van Alphen oscillations
Magneto Oscillations (assistive files)
Comparison between Pauli and Landau paramagnetism
Magnetically ordered structures
Ferromagnetism, antiferromagnetism, helimagnetism, conical magnetism
Origin of mean-field theory
Curie-Weiss law, Curie temperature
Ferromagnetic (FM) ordering
Spontaneous magnetization
HW4: Weiss molecular field theory and Ferromagnetism (due date: Monday, 21  November, 1 pm), HW4: Solution
Origin of Weiss molecular field
Susceptibility of FM beyond critical temperature
Antiferromagnetic ordering
Neel Temperature
Susceptibility of AF beyond Neel temperature
Susceptibility of AF below Neel temperature
Susceptibility parallel and perpendicular to B field
Canted Spins in antiferromagnets
Spin flip and Spin flop transitions (Assistive file)
Magnetic excitations
Dispersion relation for Spin waves
Magnons
Temperature dependence of magnon numbers
Bloch Law, energy and heat capacity of magnons
HW5: Spin waves and magnons (due date: Monday, 28  November, 1 pm), HW5 solution
20: Quantum mechanical description of magnons
Second quantization formalism
Holstein-Primakoff transformations
Mapping of exchange hamiltonian under Holstein-Primakoff transformations
Tight Bonding Model
Diagonalization of hamiltonian by Fourier transform
Dispersion relation for magnons
HW6: Various aspects of quantum magnetism (due date: Monday, 12 December, 1 pm), HW6 solution
21: Landau theory of ferromagnetism
Symmetry breaking and order parameter
Power law for magnetization, phase transitions, critical exponents
Experimental methods to determine the Curie temperature (Arott plot)
Heat capacity of ferromagnet
Ising interaction
Role of entropy in ising chain
Heat capacity of finite ising chain
Tight binding inside a molecule (Hydrogen molecular ion)
Tight bonding hamiltonian
Bonding and antibonding molecular orbitals
Tight binding chain
Hubbard model: interplay of kinetic energies and Coulombic repulsion
Stoner criterion, Susceptibility in Stoner model
Qualitative analysis of ferromagnetism in 3d elements
Rigid band model
Weak and strong ferromagnets, Heusler alloys
Superexchange interaction in MnO
RKKY interaction